Coasting
Today I returned to the Tweed Coast for the first time in as long as I can remember. I should probably visit there more often to make the most of what's left -- at the rate urban development is swallowing that place up, it mightn't be worth visiting for much longer. I guess the thing that keeps me away is that it's so damn flat -- 70km into today's ride and I still had less than 200 metres of climbing to show for it. It's not just the ocean views here (which surprisingly only come up occasionally), there are also various mangrove areas that one passes through on a journey south.
After reaching the southern end of the Tweed Coast, I headed inland for the hills around Mullumbimby. This is a beautiful area with some of the most interesting vegetation in the entire country.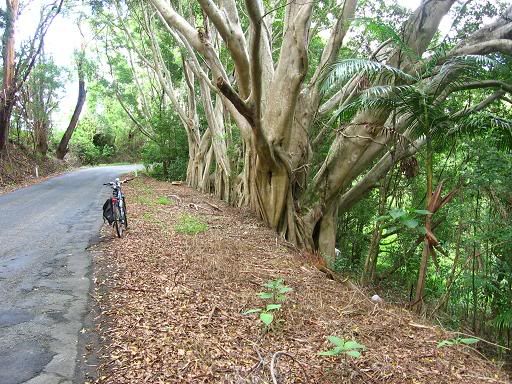 Unfortunately, the ride I really wanted -- up to the Crystal Castle, was unavailable due to a road closure. As it was, I found another way to climb the ridge further south, on Possum Shoot Road. This is actually a classic climb -- a narrow winding road with views constantly opening up as height is gained. On the top of the ridge, of course, there are sweeping views on both sides of the road.
After this I simply wound my way back home along the old Pacific Highway across the Burringbar Range, to Murwillumbah and home via Urliup, for a total of 205km. It was actually the first 200km day ride I've had since November, but I really needed to finish it off today. I'm house-sitting next weekend, and starting the New Zealand tour the weekend following. Once again, I went through 6-7 litres of fluids out there, despite the fact that it was an unusually cool January day (only reaching 29 degrees C). I also had some stupid moments on the dirt of Urliup road where my carelessness sent me closer to crashing than I should have been.
I also took what may be my last ride on the narrow winding dirt road near Brunswick Heads known as Stock Route Road. It looks like it's about to be buried under the duplication of the Pacific Highway. Some of it is already gone. Such is life I suppose, but I actually like the old dirt roads, and I'll miss it.