The calm after the storm
It is very rare that I write about mid week rides on this blog these days. It seems I can't write anything without adding a picture, and I often don't bother to carry the camera on a quick 45km jaunt before work. For all that, however, I try to remember the camera if I'm going on a pre-work ride to Little Nerang Dam after a storm the previous night. On those occasions, there's probably a 90% chance that something spectacular will appear.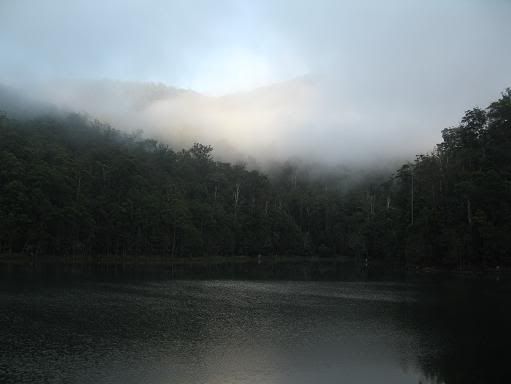 These pictures were taken at 5am, before public access to the area was even officially "open" that day. It makes me wonder just how many people are even aware of what happens out here at these times, but I also wonder how many people even care. I really believe that people are losing touch with nature, and that it's generally to their own detriment. Just take a look at the number of people living in large cities who rely on alcohol or various drugs (whether they be hard drugs, legal drugs or even anti-depressants) to get through life and you'll see what I mean. If these people put the same effort into escaping concrete as they do into obtaining their "fix", I think many of their problems would be rendered inconsequential by the sense of perspective they would gain.
On days like this, however, I have little concern for what other people are doing. I'm more interested in beholding the sight before me. On this particular day, I thought about the perspective I might get from a post-storm ride to the summit of Mt Nimmel. With the storm season in its infancy, I may get that opportunity in the future. On this day, however, I was more concerned with the beauty before me. The world is an amazing place.