Change of plans I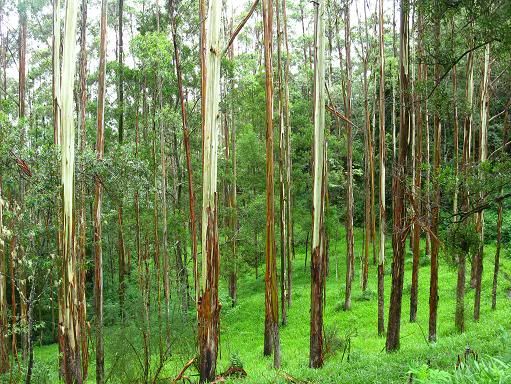 The plan on Christmas Eve was to clock up another 180km through
Mebbin
National Park, to the south of
Uki
. Things all started straight forward enough, as I headed south through
Urliup
and
Murwillumbah
, noting as I went that the streams around
Urliup
hadn't yet reached the heights that the rain suggested they might (this came two days later from what I've been told), and navigating a rather pleasant southerly wind that blew in my face and kept temperatures down to something pleasant. It was after food and sunscreen at
Uki
that things became more interesting.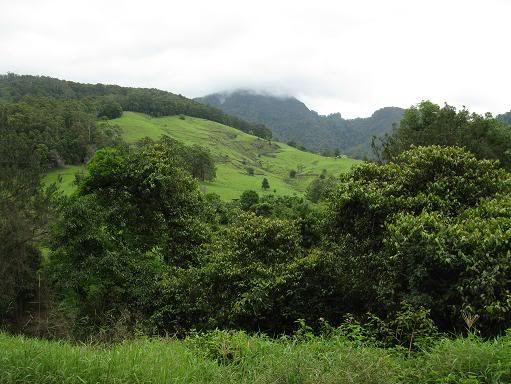 The Tweed Shire Council have just spent an inordinate amount of money (and well over six months of time) 'upgrading' a stretch of road just south of
Clarrie
Hall Dam. I wouldn't normally note this, but it seems to have upset some of the locals. First a rather aggressive dog decided to chase me when probably 99% of them don't bother. I threw an imaginary "rock" at him, and he hesitated for long enough for me to make an escape. Shortly after this, I had another confrontation with the infamous
Uki
Bomber. Just why a magpie would have a go at someone at this time of year is beyond me, but for some reason it happened here. It was then that I decided I would do the old Tweed Valley Circuit, taking in the dirt roads out to the Pinnacle and through to
Tyalgum
, rather than deal with this crap all over again on the way home.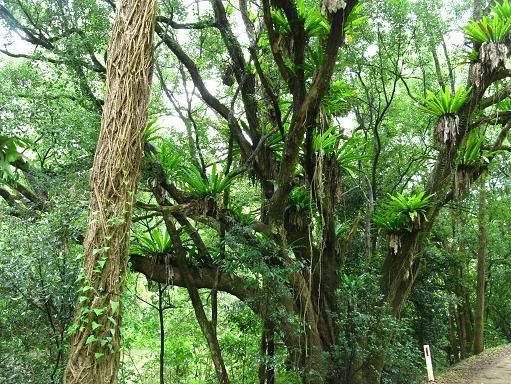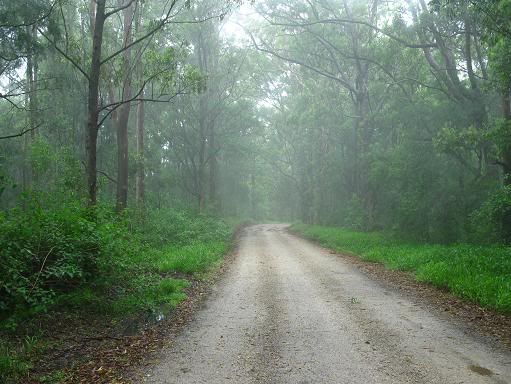 This ride turned out to be extremely pleasant in and of itself. Today I had good reason to make the most of it, after recently hearing of the council's plans to build a large dam in the area, which, I understand will see most of the route I now take flooded. The council it seems have already started removing some of the old hippie cottages that gave this area it's unique character, and it really seems to be a waste of time. Instead of trying to build more dams to cope with overpopulation (something that people strangely see as a virtue), they should be requiring water tanks to be build with new dwellings. It would most likely be a lot cheaper, and a lot more effective in the long term. Despite this rather annoying thought, I did manage to enjoy the ride, and commenced the descent to the area around
Tyalgum
, and The Pinnacle.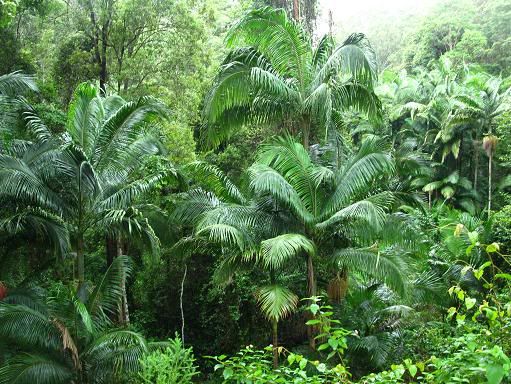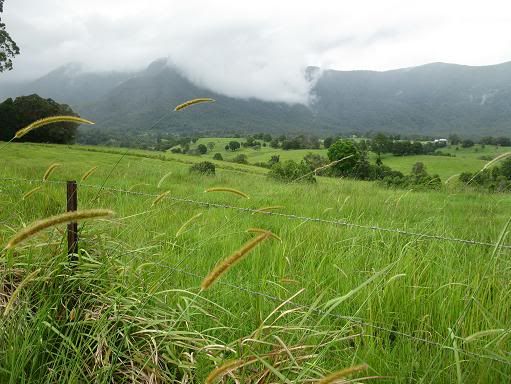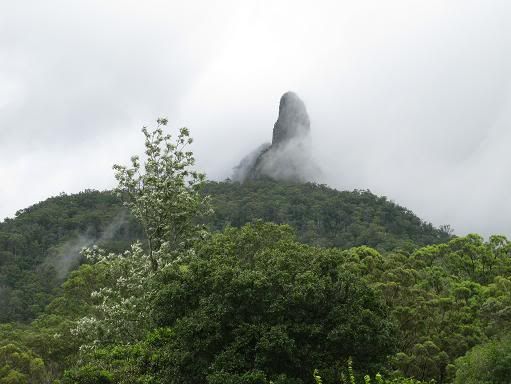 The detour out to the Pinnacle has replaced the side trip to Stokers Siding I used to do on this route for extra kilometres, and in my view, it's quite a bit more pleasant. On days like this, of course, any route that travels near the mountains will throw up all sorts of shapes that might not be seen on less cloudy days. The ride into and out of
Tyalgum
is quite hilly, with two note-worthy climbs to be navigated between
Tyalgum
and
Chillingham
. I was still feeling quite good at this stage, so I just ground them out at a steady rhythm, and headed back toward
Murwillumbah
, for the final stretch over
Tomewin
, and home.
The easterly wind picked up here, and I expected this to slow me down on the stretch toward
Murwillumbah
, but for some reason I got though this faster than I expected, maybe the numbers on the road signs overstate the distance here. The climb up
Tomewin
was made easier than I had planned because of the drenching, cooling and fresh rain that fell here. Although the height of this pass is a modest 355 metres, the clouds totally obscured any views of the surrounding coast and lowlands that might have been visible up here. Still,
rainforest
at the top here is particularly pleasant on days like this one.
All that was left now was the final stretch home along the coast after the descent. This was made easier by a tailwind that helped me get through suburbia a little quicker. All up, it was a very fulfilling 175km, and just what I needed as a diversion from the madness and insanity that generally represents this time of year. Bring on the next one.