Mist out
Yet another amazing weekend of riding commenced with a quick-fire 120km on Saturday morning. I'm not sure what I was thinking to do this on a few hours' notice the day before a century, but it just seemed like a cool thing to do. Martin and I set off on a deserted Springbrook road for the climb to Salmon's Saddle, in cool, moist morning air left behind by the previous evening's downpour. That climb is an enjoyable one at anytime, but when there is mist hanging around the horizon, the enjoyment factor picks up a little.
The descent into Numinbah valley from this side is literally a screamer. I clocked 79.9km/h at one stage, and yet there was still time to take in the scenery through the gaps in the forest. There are also some areas to explore when I get my new MTB later in the year. Numinbah Valley greeted us with clouds hovering below mountain tops overlooking lush green pastures. Yet the southern end of this valley is arguably the prettiest climb in Southern Queensland, as the mountains close right in leading up to Numinbah Gap, where for a moment, you can be king of the world, or at least the Tweed Valley.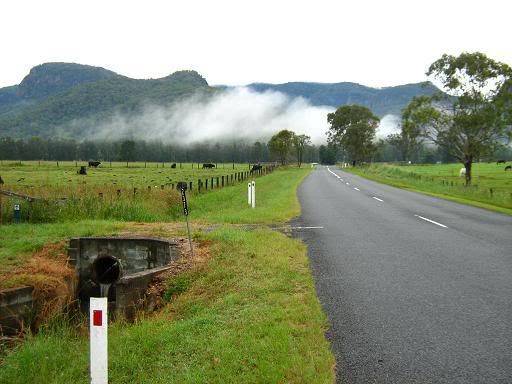 Descending into the Tweed Valley on days like this is an almost surreal experience. It feels more like coming in to land as we pass through the clouds. Shortly after reaching the valley floor, Martin suggested I should climb it again, for no reason other than chatting up a female cycle-tourist who was riding the other way. Unfortunately, chasing someone up a mountain range to start a conversation is a little less than subtle, and I declined the opportunity, even if she was a nice girl.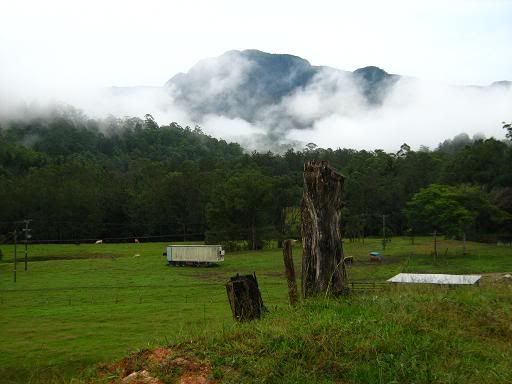 The ride through the rural Tweed Valley was relatively uneventful. By this stage the mist was rising quickly, even if the sun wasn't making an appearance. The final act was the long grind over Tomewin to return to the Gold Coast (and earn 1,500 metres of climbing in the process). It took me a while to find my rhythm on that climb, but it mattered not, as we were held up by a council gang clearing a landslide. We saw evidence of a few more in the area too. The first decent wet season in seven years has brought floods, landslides and some of the most spectacular riding I've seen in 13 years in this part of the world. Right now it just seems to be getting better and better. Hopefully I'll never find the pinnacle.