Cop that!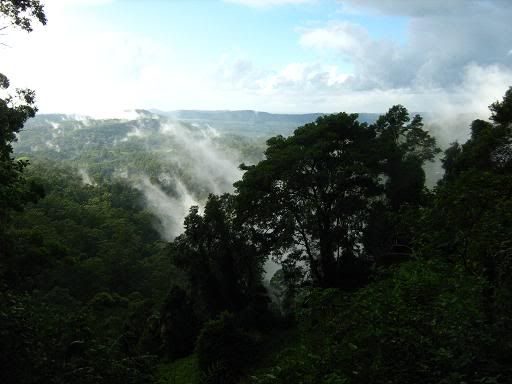 I am now officially "back" after a bout of bronchitis followed by a "recovery" time that was longer than I had hoped. I did manage a couple of rides last weekend (which I will write about when I get a few spare minutes), but I had no power. Tonight's ride as a different matter, a final confirmation that I am officially "back".
The original plan had been a ride to Little
Nerang
Dam, and I did manage a blistering start, but a little further along, some thick bushfire smoke coated the surrounding hills, not something I wanted to ride through. I rode the top of a short 2km climb before turning for home. I still felt strong, so when I saw the turn off for
Monaro
Road, I decided one more climb might suit things. 3km horizontally and 300 metres of height later, I was "back".
The early part of the climb was easy enough, but later on came the kick. I'm not sure of the gradient, but I felt as though I was on the edge, before the road turned a corner and steepened even further. I had to increase the intensity. The moonlight revealed a climb that seemed to go on forever, at a ridiculous gradient. I maintained the consistency, getting in touch with my inner leech, and just hanging on. In a grim kind of way, I began to enjoy it. I must have been doing alright, because I reached the summit sooner than I'd expected, and took in a spectacular view over the lights of the coast bathed in moonlight. That felt
goooood
!